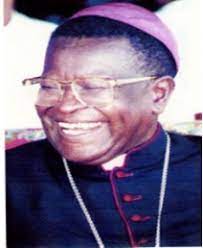 On August 26, 2006, on the twentieth anniversary of Fonlon's passing, the Archbishop Emeritus of Bamenda, Paul Verdzekov, today of late, reflected on the man Fonlon was as follows:
Twenty years ago, on 26th August 1986, Bernard Nsokika Fonlon died in Canada. He had gone there in the month of May of that year in order to receive a doctorate degree in Literature (D. Litt.) from the University of Guelph, and it was his intention to spend the 1986/1987 academic year in the United States of America, within the framework of a Fulbright programme. But the Lord, the Giver of Life, decided otherwise. Bernard died in Canada at the age of sixty-one years, and nine months and six days. He would have been sixty-two years of age on 19th November 1986. His mortal remains were brought home to Cameroon, and he was buried behind Saint Teresa's Cathedral at Kimbo', in the Nso' country, the little town where he was born on 19th November 1924. The mortal remains of Bernard Fonlon arrived back in Cameroon at the time when the people of Cameroon, as a whole, and of the Bamenda Grasslands, in particular, were devastated by a sudden and unexpected tragedy, namely, the Lake Nyos gas disaster, which occurred on 21st August 1986, and which, within minutes, claimed the lives of hundreds and hundreds of our fellow country men and women.
In an Obituary written for the Summer 1986 issue of the Bulletin of the African Literature Association, Edmonton, Canada, I.C. Tcheho, of the University of Yaounde, said, inter alia:  "Throughout all his life, he (Professor Fonlon) was the very incarnation of his belief in the supremacy of intellectual life over the material life. Consequently, he practised, in a rare manner, the virtue of detachment from materialist preoccupations. 'I have not garnered gold', he writes with emphasis in a second Letter addressed to the Bishops of Buea and Bamenda in 1979…
By means of a great number of his every day life, Bernard Nsokika Fonlon fought hard, without counting the cost, for the triumph, here and now, of the essential values of the human being. In a very special manner, he was preoccupied in the highest degree by the future of African Youth in contemporary Africa which is extremely exposed to moral degradation. He held that every African, whatever be his or her position of responsibility, has the sacred duty to seek excellence at all times…
The moral ideal of Bernard Fonlon can be summed up in that other adage which he liked to cite in learned Latin: Integer vitae scelerisque purus (Purity of a life untarnished by sin)" (My weak and approximate translation from the French original).
Another Obituary by a close friend of Bernard Fonlon, which also appeared in the above-mentioned bulletin of the African Literature Association, is that of Richard Bjornson of Ohio State University. He said, inter alia: "The death of Bernard Fonlon in an Ottawa hospital room was completely overshadowed by the horror of the Lake Nyos disaster that occurred some thirty miles from his birthplace of Banso in the North-West Province of Cameroon. In some ways, the very fact that he died in semi-obscurity is symbolically appropriate, for despite the accomplishments of his life, Fonlon was a humble man, who never really sought the limelight. As others gained fame and notoriety, he laboured patiently and effectively – as a government minister, as the editor of an impressive cultural journal, and as a teacher – to realize the lofty ideals he had set for himself. He always defended the highest standards of excellence, and unlike many of his successful countrymen, he was never interested in amassing a personal fortune. In fact, he became an almost legendary exemplar of integrity and the modest life style in a country where conspicuous consumption is commonly regarded as a perquisite of success".
Another touching tribute to Bernard Nsokika Fonlon is that of his friend, Professor G.D. Killam, of Guelph University. His tribute to Bernard Fonlon also appears in the above-mentioned Bulletin of the African Literature Association, Edmonton. Professor Killam said, inter alia:  "Dr. Bernard Fonlon's contribution to Cameroonian life in politics and education is salutary and will remain so. He held important ministries and built for Cameroon an airline and telecommunication network, a public transport service, a health and welfare system – all of which make a proud legacy. His tireless effort in securing the reputation of the Department of African Literature, the only such Department in the world, adds to the uniqueness of Dr. Fonlon's career and further establishes his vision. He had an impressive number of 'firsts': he was the first Cameroonian to receive a Ph.D. and he directed the first Ph.D. thesis in Cameroon. He was the first Cameroonian to receive national honours in Nigeria, Germany and Tunisia, and he was proud of the fact that the D. Litt. bestowed on him by the University of Guelph in 1986 was the first to be received by a Cameroonian, and it was the one he most cherished.   All these achievements are well documented. Dr. Fonlon's spirit will move through Cameroon after his death as it did when he was alive".
That Bernard Fonlon's spirit would "move through Cameroon after his death as it did when he was alive", (dixit Professor Killam), was also affirmed by some students of the University of Yaounde in a tribute published in the Government-owned newspaper, Cameroon Tribune, very shortly after Bernard's death and burial. Among the many concrete examples of a life of unimpeachable integrity which, according to the students, Bernard Fonlon leaves as a legacy to the youth of this country, they singled one for special mention, and which I cite from memory. After his retirement as Professor from the University of Yaounde, the students wrote that Bernard Fonlon continue to direct their theses, dissertations and 'memoires' completely freely, not seeking, or asking for, or expecting, any fees, offerings or inducements (the so-called 'motivations') of any kind. His only joy and satisfaction in this regard was to see young Cameroonians contributing to the advancement of knowledge. The students of the University of Yaounde said that they most deeply appreciated Bernard Fonlon for this action.
Professor Killam's conviction that Bernard Fonlon's spirit "will move through Cameroon after his death as it did when he was alive" is also illustrated by a paper celebrating Professor Fonlon's legacy presented by Eugene Nyuydine Ngalim on the occasion of the celebration of the nineteenth anniversary of Bernard's death held at Yaounde on 24th November 2005. Eugene Nyuydine presented that Paper on behalf of the Cameroon Youths and Students Forum for Peace.
In his own paper entitled: Remembering Dr. Bernard Fonlon, William Tallah said, inter alia, on the same occasion:  'Eugene was still in Primary School when Dr. Fonlon died in 1986. Like many young people of today, Eugene never met Dr. Fonlon, yet the passion and drive with which he went about gathering the interviews on Dr. Fonlon for this occasion is unparalleled".
Eugene Nyuydine Ngalim's paper, his activities and those of his friends for the celebration of last November is a sign that the legacy left by Bernard Fonlon to the Youth of this country is alive.
When I revisited the book entitled Socrates in Cameroon, a University of Yaounde Publication edited by Nalova Lyonga and published by Tortoise Books in 1989, I was struck by the following Reflections in the Churchyard of Kumbo Cathedral, 27th February 1988, by Professor Victor Anomah Ngu;
Bernard Fonlon, M.A., Ph.D., (Nui) Dip. Ed. (Oxon), Professor, born 19 November 1924, died 26 August1986. That is what was printed on Bernard Fonlon's tombstone. That is what he was called when he lived with us until that fateful but happy day in August 1986, when Ben left us for another world.
But what do they call him now, up there where all good men and women go? If you were to go there and ask for a certain Professor Fonlon, M.A., Ph.D., they would probably simply laugh at you. Such titles mean nothing there.
Why did God call Bernard Fonlon before he came into our world on 19 November 1924? Since God knows each one of His creatures, he had a name before he was baptized Bernard. And now that he has returned to his permanent heavenly home, he will take up his real name once again. It would not include such empty and pompous titles and degrees as Professor or Ph. D. Nor for that matter are there any Excellencies, Majesties, Graces, Eminences, or Holinesses there in heaven either. The names and tittles we bear here on earth we must bear lightly indeed, like the numbers jockeys bear on their backs when they ride in a race and which they must set aside when they go home at the end of the race.
Our real names and our real titles await us when we join Bernard Fonlon. WE will find, if we are lucky enough to join Bernard Fonlon, that he is not a Ph. D. but a BMH, MCPG, Beloved of the Most High, or Member of the Celestial Philosophical Group of which Newman will almost certainly be a member…" (Socrates in Cameroon, pp. 159-160).
These Reflections of Professor Anomah Ngu remind us of the following words of the Congregation for the Doctrine of the Faith on the Question of Admission of Women to the Ministerial Priesthood:  "The Church is a differentiated body, in which each individual has a role; the tasks are distinct, and must not be confused; they do not favour the superiority of one over the other, nor do they provide an excuse for jealousy; the only better gift, which can and must be desired is love (cf. 1 Cor 12-13). The greatest in the kingdom of heaven are not the ministers but the saints" (Inter Insigniores, n. 6).
In the course of 1953, when he was a third year student of Theology at Bigard Memorial Seminary, Enugu, Bernard wrote a poem entitled: To A Departed Master's Memory. It was a poem in memory of Father Thomas Burke Kennedy, an Irish Mill Hill Missionary, who taught Bernard in Sacred Heart Primary School, Shisong, in the nineteen thirties, and who had a decisive and lasting formative influence on him. Father Kennedy died at Njinikom in 1953, and is buried there. Bernard had intended publishing that poem, together with other articles, on the occasion of his ordination to the Priesthood, which was expected to take place in 1954. However, "on the very eve of the Final Step, the Subdiaconate, six months away from the Priesthood, my life took a sharp and unexpected turn. And my day of triumph never came!" (Bernard Fonlon). As he himself used to put it in his usual blunt and matter-of-fact manner, he was "dismissed" from the Seminary.
Seventeen years later, towards the end of 1969, Bernard sent that poem to me, together with other articles making up a pamphlet entitled: As I see it, for serialization in a monthly of the Diocese of Buea, Cameroon Panorama. With specific reference to the poem, he wrote inter alia, on 24th December 1969:  "Today, I have decided to publish it exactly as it was written. I do so in the hope that, imperfect though it be as a matter of course, it will, nevertheless, recall a worthy man, and a worthy priest; and arouse the tribute of prayer in the hearts of those who loved him. I do so in the hope that it will enkindle, even for a moment, the sorrowful memory of Father Burke Kennedy".
On this occasion of the twentieth anniversary of Bernard's death, one would like to borrow his mournful words about that Irish Mill Hill Missionary, who was his hero, by expressing the hope that the foregoing lines will, somehow, "arouse the tribute of a prayer in the hearts of those who loved" Bernard Fonlon. May these lines help to "enkindle, even for a moment, the sorrowful memory" of Bernard.
+ Paul Verdzekov
Archbishop Emeritus of Bamenda