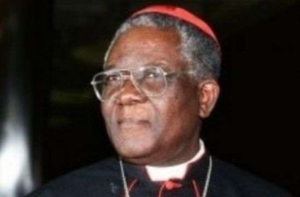 Chapter Eight of Christian Cardinal Tumi's very readable book, The Political Regimes of Ahmadou Ahidjo and Paul Biya, and Christian Tumi, Priest, is the shortest of the book's nine chapters. It is tugged in just before the conclusion more like an afterthought than as an integral part of what had informed the writer's original thinking.  He himself admits that this chapter was inspired by an incident that occurred just as he was rounding up his book.
It is what some commentators have dubbed the "Tumi-Abah Abah Confrontation". The said confrontation arose as a result of an attempt by the then all-powerful Cameroon's Minister of Finance and the Economy, Polycarp Abah Abah, to seal the Catholic media house (known by its French acronym MACACOS), for what he claimed were overdue taxes. It turned out that this incident had more to do with the Honorable Minister's ego than with State taxes he claimed he wanted to recover.
Prior to Minister Abah Abah's fall from grace to grass, and subsequent internment in the Kondengui prison in Yaounde for embezzlement of public funds, some of the tabloids that were being printed in MACACOS were really out to get him. They tore through the poor fellow with a vengeance. Day in, day out, they churned the man's reputation in the dust, determined to expose his behind to general derision.  MACACOS then printed nearly three quarters of the newspapers on sale in Cameroon at the time.
The honourable gentleman began by summoning a MACACOS board member to appear before his august presence in Yaounde. During their meeting, he reportedly screamed in the board member's face, promising he would shut down the printing press, if it continued to print those tabloids that were against him. The board member reminded him that MACACOS was not his personal property, rather it belonged to the Catholic Archdiocese of Douala under Christian Cardinal Tumi.
That revelation seemed to infuriate the Honourable Minister even more as he screamed invectives against Cardinal Tumi. "Cardinal or no Cardinal, I will shut you down if you continue to print those pieces of trash that are soiling my reputation!" he reportedly shouted. "Do you know what this has done to my integrity? The Head of State himself is beginning to doubt my loyalty to him because of all the trash those tabloids are saying about me! It must stop now! Tell your Cardinal that I mean every word of what I'm saying!"
The board member brought back word of his meeting with Minister Abah Abah which the Cardinal dismissed with the wave of the hand. He said he was not going to stop MACACOS from doing business with newspapers simply because a government minister was not happy with them. "Let him take us to court, if he likes. That's his right!" he said dismissively.   The board member said he was sure Abah Abah was going to react soon.  I was the managing director and Cardinal Tumi asked me if our taxes were in order. The answer being affirmative, he asked us to go back to work.
As we continued to print the newspapers Minister Abah Abah had decreed should be banned, his counter-attack came swiftly.  First, a four-man advanced team arrived and was led to my office. I asked how I could help them and they said they had been informed that we were way back in the payment of our taxes. I said our books were open for their scrutiny.
They loitered around for a few days, pretending to go through our books, before returning to Yaoundé. Then the bombshell fell. MACACOS was asked to pay over a billion francs CFA in outstanding taxes.  Our lawyers, beaming with smiles because they could see a juicy "soya" hanging at the end of the stick, swung into action. Within the deadline given by law, they had filed detailed counterclaims and the Ministry was forced to back down. From over a billion francs CFA, it dropped its claim to less than five times that amount. We still judged it unfair and filed another counterclaim after the payment of the 10% of the amount, as required by law.
But then a heavier hammer was still hanging over us. Barely a week after MACACOS filed a counterclaim, a group of about ten individuals rushed into my office one afternoon. You could have thought they were coming to arrest a dangerous criminal. Before I could say anything, the team leader was standing over me and shouting at the top of his voice, ordering me to leave my office without taking even a pencil with me because his guys were going to seal it. I told him all our tax records were in order and that the tax issue in question was being resolved as required by law. He said he was not in the least interested in seeing any of our documents and that we owed taxes and his instructions were to seal the company, and that was what he was determined to do. He warned that if I did not get my bottom off my seat and walk out calmly, his "ninjas" would toss me out through the window. The said "ninjas", four in number, were already standing menacingly around my table. Work came to a halt throughout the company as workers were all filing out to see what was happening.
Christian Cardinal Tumi was almost always on the move. But, providentially that day, he happened to be on seat. Someone rushed to alert him that something was happening and he arrived just on time to stop those fellows from forcefully evicting me from my office. When he walked in, he asked what the matter was. The head of the team probably did not know who he was, or pretended not to. He merely reiterated his claim that he and his people were there to seal the company for overdue taxes and that no one, not even a priest, he said scanning the Cardinal from head to toe, would stop them from executing the ministerial order they had.
It was then that I saw Cardinal Tumi in a light I had never seen before even though I had worked closely with him for many years. It was a very angry Cardinal Tumi I was looking at. The ever-infectious smile was gone from his face. His voice, which was already among the most commanding voices we have in this country, gained in volume and vibrancy. The whole building seemed to shake as he screamed, asking them to leave immediately. The so-called leader of the "gang of ten" turned to some of his men and arrogantly declared: "Il faut noter qu'il y a une rebellion ici" (Note that there is a rebellion here), whatever that meant.
But then, those with him were already moving a few steps back as the Cardinal's voice of defiance increased in volume. Before long, even the leader of the group himself, who had been beaming with such confidence and making open threats when he came into my office, was also backing away into one corner.
He then furtively came towards me to ask just how much we could give them so they could gently disappear. I asked what he meant and he explained that if they could have a few million francs CFA to show their boss when they got back to their office, they would leave immediately. As he was whispering to me, the Cardinal turned round, his eyes red with fury, and asked me what he was saying. I told him he was asking for some money which he would show their boss as booty for the day. The Cardinal angrily told him that MACACOS was up to date in its taxes and that there was no question of negotiating with people who were holding us hostage.
We later learnt that, as the drama was unfolding, word reached the Presidency in Yaoundé that the tax people were holding Cardinal Tumi manu militari in his office. The regional governor was asked to explain what the matter was. The poor man, who was hearing of the raid for the first time from his bosses in Yaounde, called the head of the taxation department in Douala to evacuate her people from MACACOS with immediate effect.
For  all the years I worked with Cardinal Tumi that was the only day I ever saw him really angry. His anger did not last for long, though, because the head of the tax team, after receiving instructions to withdraw his men, turned to us and said: "Au moins, ça m'a quand même permis de rencontrer le Cardinal Tumi pour la première fois" (This incident has, at least, enabled me to meet Cardinal Tumi for the first time); and with that the smile came back the Cardinal's face. He told him, "My son, I understand you're carrying out instructions but just make sure you carry them out judiciously and respectfully". He then blessed the tax collectors before they left our premises. Someone likened his gesture to Jesus blessing Matthew and the other tax collectors to the horror of the Scribes and the Pharisees.
Behind that confrontation, however, lay the figure of the haughty and all-powerful Polycarp Abah Abah, who had vowed to shut down MACACOS. Through his proxies, the tax collectors, he had mercifully hit a wall, Cardinal Tumi, and found it impenetrable. This was one other eye-ball-to-eye-ball clash Cardinal Tumi had with a powerful member of the Biya government from which he emerged victorious. History records many more such tussles with administrative authorities during his life as a priest, a bishop, an archbishop and a cardinal. Some commentators saw it as the victory of ecclesial authority over the corrupt forces of temporal power.  It was also a victory of sorts for press freedom in Cameroon since newspapers could roll off the MACACOS press without any more ministerial interference.
December 23, 2009