By Dibussi Tande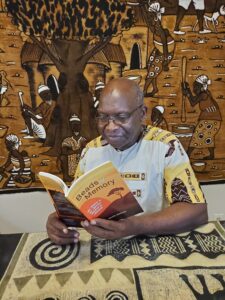 Beads of Memory is the story of Leinteng Basha, a young Cameroonian studying in Madrid in the 1970s. The story starts off like any other about African students in a strange European country, looking in from outside, and trying to adapt to their new and sometimes hostile environment and its alien mores. Leinteng's story, however, goes beyond "the usual complaints of African students abroad: loneliness, homesickness, the indifference of a heartless and racist society" to offer a humor-laced but laser-focused analysis of society.
In Beads of Memory, Martin Jumbam presents us with an array of colorful and endearing characters – from Dona Maria, the garrulous landlady whose ageing eyes exude a child-like enthusiasm and who is taken in "by this boy from Africa who writes love letters on torn packets of cigarettes'; the jovial and modest Bassey, Leinteng's Nigerian sidekick who becomes fluent and eloquent only after a few glasses of beer; the Marxist Jesus Ndongo from Equatorial Guinea, "a young man whose hopes of a better tomorrow had been crushed and buried years ago in his homeland and now a drifter who roams the cities of a foreign land… because a political demon is at large in his homeland"; Jean-Marie Mobutu, the "revisionist sellout" from Zaire whose name "opened him to ridicule and sometimes outright verbal or even physical attacks from some of his compatriots who wrongly mistook him for a relative of their country's dictator'; to the pretty but blithefully uninformed Guadelupe Muñoz whose eyes "reminded one so strongly of the infinity of a blue summer noon."
During moments of solitude and despair in Madrid, Leinteng barricades himself "behind closed doors to suck the slippery tongue of memory" as he nostalgically wades down memory lane back to his close-knit family back in Cameroon and his eventful childhood in his native Nkar – a simple but happy life filled with love and tenderness. Most notable in his reminisces is the towering presence of his selfless, doting and hardworking mother who deftly manages and holds her family together when her husband – a man poor in material wealth but very rich in the warmth of human kindness – falls ill; "Who is the girl of today who would agree to sit by a bedridden husband for seven years? The elders would always wonder, their voices dripping with great admiration for Mama."
Jumbam has an uncanny eye for detail and a knack for transforming even the most banal events into vivid stories, for example, when the "hypnotic gyrations of the multi-coloured bulbs" in a night club "sensuously turban-wrap" his mind "in rainbow colours" while he listens to a singer whose voice is like "a sigh-wrapped tongue of love" amid "heavy beats of the demented drums [that] send the spinning bulbs into a frenzy of excitement."f Martin Jumbam's chronicles of student life in Madrid
Beads of Memory is littered with lyrical passages that fire up our imagination and transport us to distant lands such as Nkar, with its "saw-toothed hills [that] twist and turn and rise and fall in huge reels that look like endless waves winding away further than the eye can ever see" or cosmopolitan Madrid with its snow-capped and undulating Sierra mountains "that ring th[e] city like a noose around a condemned prisoner's neck."
Nothing escapes Jumbam's observant gaze, not even the old couples in the street, "locked arm-in-arm, stooped under the burden of years and walking about like silent ghosts" or the elderly "who bask in the sun like lizards, silently munching their past thoughts in toothless mouths."
Beads of Memory may be from an age long gone – before the Internet, social media or the smartphone – but the issues it tackles still resonate today; many Africans are still in exile because their political activism has made them persona non grata back home; many African students abroad are still doing their best to curry favor from their repressive home governments in hopes of landing a cushy job when/if they return home. And, heated discussions about political strife back in the home country abound. Thus, when Jesus Ndongo argues that "A revolution oiled by the blood of the young is bound to be a revolution frightening in its potency. Such a revolution can never be quelled by bullets, only by victory," one cannot help but think about the ongoing conflict in Leinteng's homeland, Cameroon. Or when Leinteng lashes out at:
"those who could lead young boys to their untimely death for a cause none of them really knew. Beyond the inflammatory rhetoric of army generals and unscrupulous politicians, who could really say what those young boys died for? They had died defending the interests of power-mongers whose own sons and daughters were in safe hiding in Europe and North America, riding long luxurious cars bought with money siphoned from the pockets of the poor for the so-called WIN-THE-WAR efforts."
And in a chilling passage from the book's final chapter, Leinteng paints a picture that reads like a page from straight from today's politics:
"The language of guns is the only language of the oppressed, which the oppressor understands. For years, sons and daughters of my people stitched the torn land with the thread of bullets. Many fell as evidenced by the numerous wreathless graves that stud the land; but needless to say that a people's will is always victorious. All the great rivers of this land can bear witness to the courage of the fallen of yesterday. Unsung heroes fallen in battle, a finger on the trigger of the rifle."
While Beads of Memory tells the story of African students abroad that is familiar across generations, it is also a critique of western society and politics in post-independent Africa, and a celebration of family, friendship and tradition. That Jumbam successfully pulls this off in just 83 pages is a literary tour de force that must be commended.
Beads of Memory is available online from Spears Books, African Books Collective, Amazon, and other major online bookstores.